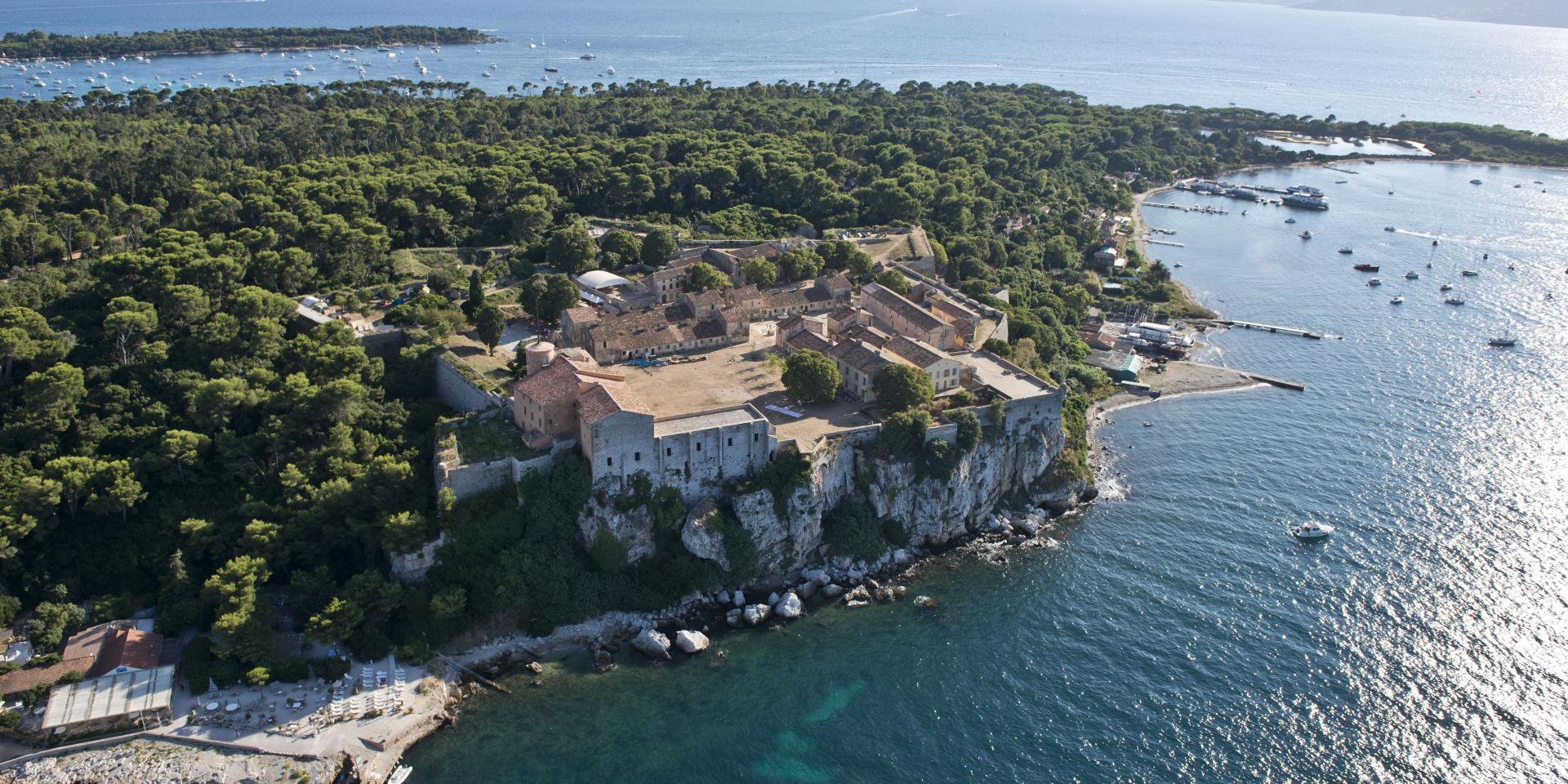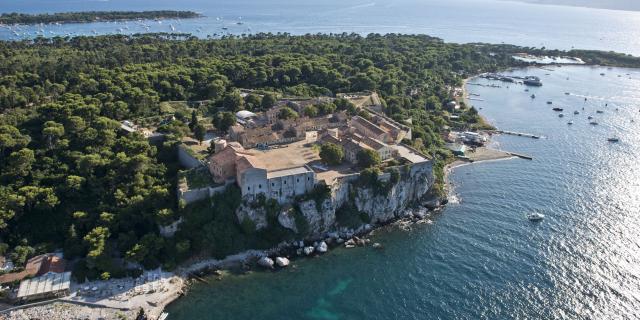 The mysteries of the Man in the Iron Mask
are revealed on Sainte-Marguerite Island
Visit to his cell
at Fort Royal

The approach to Fort Royal
the state capture of the King's convicts
After embarking in Cannes, we gradually approach the shores of Sainte-Marguerite Island. Here is Fort Royal. Perched above the water, on the side of the cliffs and flown over by the seagulls, it is impressive! You can immediately feel the weight of history on its stone shoulders. It must have seen many others, visitors coming ashore, conquerors or simply curious.
Entering the cell
of this exceptional prisoner
The sound of the heavy wooden door opening gives the impression of having lived through the centuries! Here is a vast room with a fireplace. You have to imagine it richly furnished with all the comforts available at that time. Amazing for a prison cell, isn't it?
So it was a man who was imprisoned here. However, his daily life must not have been easy.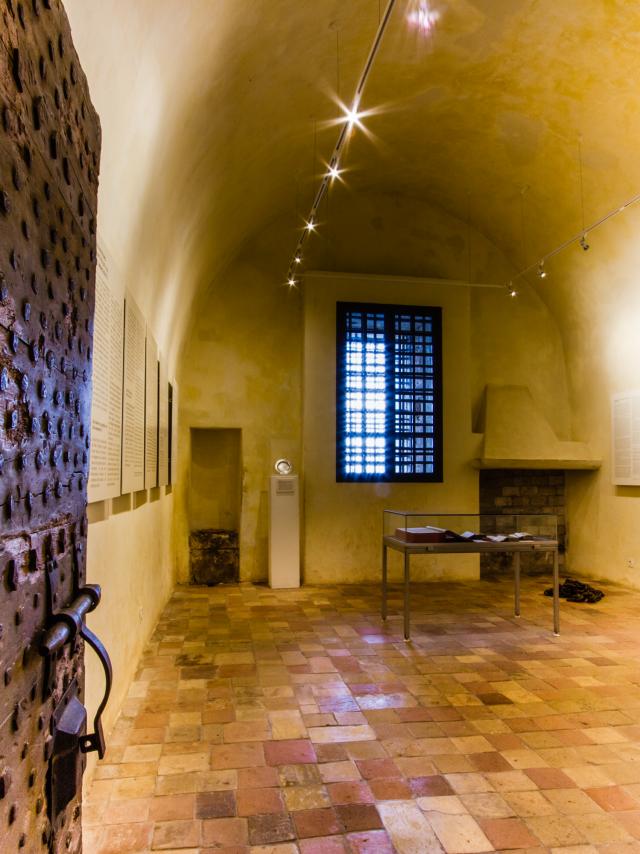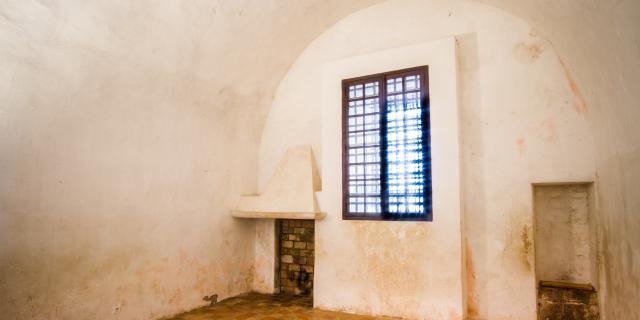 A view of the sea squared off
by prison bars
Although overlooking the bay of Cannes, the heavy bars that criss-cross the window remind us that we are in a high security prison. By visiting this cell of the Fort Royal, we share a fragment of the life of the man in the iron mask. His legend, however, remains intact. Whether he was a close relative of the king, a deposed minister or an overly curious valet, perhaps one day we will find out who was hiding behind the metal face.
Will the identity of the man in the iron mask
ever be revealed?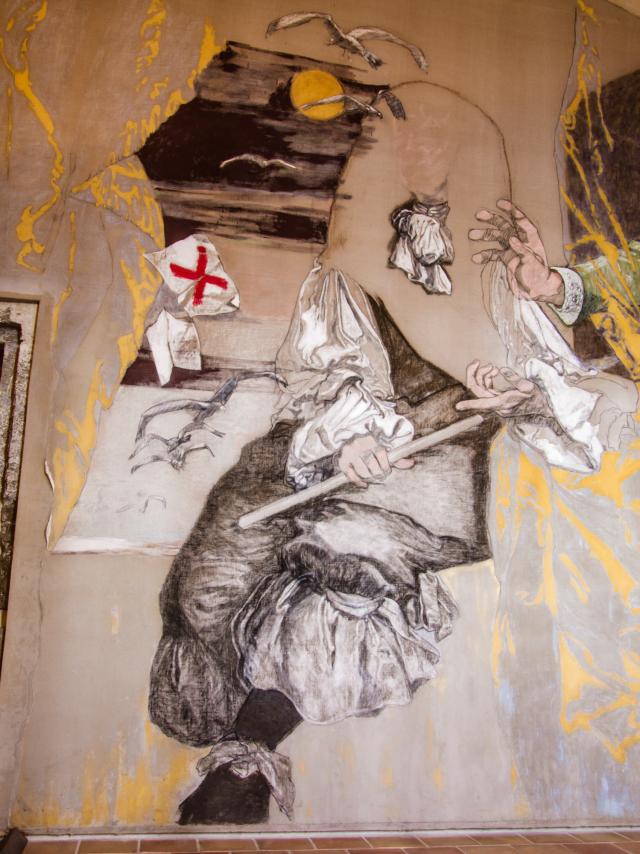 Deprived of his freedom, the man in the iron mask is also deprived of his name and even his face! For that is the heart of his legend. This man was never to be recognised.
He arrived on the island in 1687 and was locked up in a cell in the prison wing, built especially for him under the orders of King Louis XIV. This captive therefore deserved special treatment. But what kind of treatment? Guides on the spot tell us about the privileges he had compared to other prisoners.
We finish our visit to his cell by learning that the main legend about the man in the iron mask is real: he was forced to wear an iron mask until his death in 1703.
Other sites to visit
at Fort Royal
Places full of history
The cell of the man in the iron mask is not the only attraction of Fort Royal. The powder magazine, the barracks, the church…
Let's explore these places that take us back in time, from Roman times to the present day.
This historical journey through the ages and legends is coming to an end, but the exploration of the island of Sainte Marguerite still holds many surprises. Here, nature is a promise of new adventures…